EDIT MAIN
Jeff Messersmith
Superintendent
jeff.messersmith@wynotpublicschools.org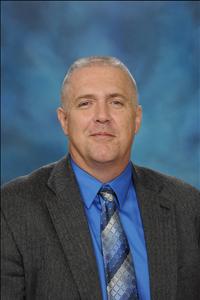 Welcome to the Wynot Public School web page. I am very proud of our students & staff; we work hard to challenge all our students to be their best.
I began my journey in education through the most unlikely of paths. I graduated from Columbine Senior High School in June, 1980. After graduation I joined the United States Marine Corps and served from June, 1980 to June, 1986. During my time in the Marines I was stationed in Japan and served as the Non-Commissioned officer in charged of the night crew aircraft maintenance. When I was honorably discharged from the Marines I decided to attend college at Kearney State College, now University of Nebraska at Kearney.
During my college work I met my wife Teresa and we were married. While in college Teresa and I had two children Marcus and Kristin. In 1991 I graduated from college with a Bachelor of Science in Education with endorsements in Mathematics and Computer Science. I chose education because I was impressed with my in-laws zest for working with children. Mom and Dad were both teachers and seemed to love working with and coaching children. Their love of the profession excited me and I knew this was the right direction for me.
I have been an educator in 5 schools, Lynch, Culbertson, Wood River, Winside and Wynot and have enjoyed teaching students math and computer skills. While I've been teaching I have also coached football, basketball, and track, as well as a technology coordinator. During my coaching I have found I have my greatest influence on the kids. I feel that I am an excellent roll model and have always expected my kids to try and be good role models as well. I have led football teams to district championships and the state playoffs, basketball teams to conference championships, district championships, and the state semi-finals.
I have always believed that one must teach the kids to play hard, smart, and to have fun. That, we all must follow some type of priority system, what I ask of the young men is to always follow good examples. 1) God, 2) Family, 3) School, 4) Team, this priority system has always been special to me and I let the kids know how important it is for them to have priorities and that even though they may not want to be, they are role models to our elementary children. In the short time I have been a part of the Wynot public school I can see that we have great students, parents and patrons. Likewise, without the support of our community, Wynot Public School would not exist, at least not as we know it.
As the Superintendent of Schools, I welcome any feedback to make Wynot Public School better for all our students. Please feel free to e-mail me at jeff.messersmith@wynotpublicschools.org or by calling the school.