Lewis & Clark Conference Art Exhibit results: Kingston Hans (1st place - Clay, Hand-Built & 1st place - Clay, Thrown) Payten Johanssen (3rd place - Clay, Thrown) Kayla Pinkelman (2nd place - Pencil & 3rd place - Clay, Thrown) Kinslee Heimes (Outstanding School Artist award, 1st place - Scratchboard, & 3rd place - Mixed Media) Allison Wiesele (1st place - Pencil) Courtney Pinkelman (2nd place - Acrylic) Taylor PInkelman (1st place - Charcoal) Cash Lenten (2nd place - Charcoal) Tiara Sudbeck (2nd place - Charcoal) Aven Hanson (2nd place - Charcoal) Kiersten Hans (1st place - Scratchboard) Brock Thiele (2nd place - Mixed Media) Kesley Koch (2nd place - Mixed Media) Lauryn Thiele (1st place - Clay, Hand-built) Taelyn Hans (1st place - Mixed Media) Kyra Koch (1st place - Mixed Media) Tucker Gowery (2nd place - Mixed Media)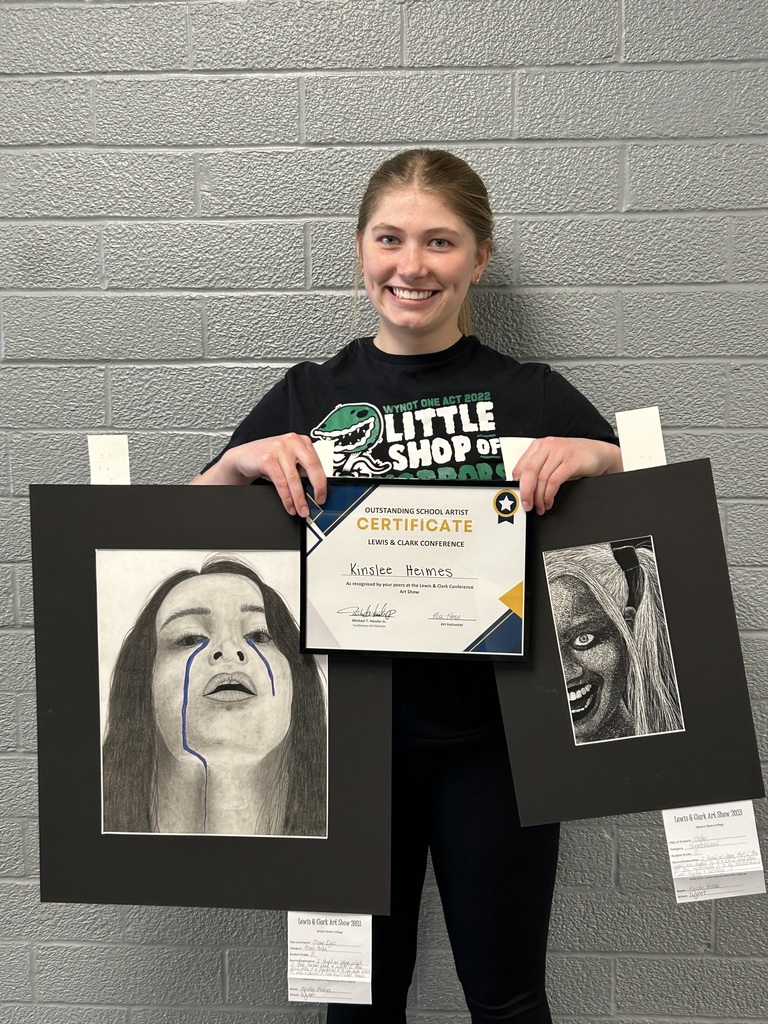 Congratulations to Hannah Dodge for being selected to attend American Legion Auxiliary Cornhusker Girls State, on the campus of the University of Nebraska in Lincoln. Hannah will study local, county and state government processes in this nonpartisan political learning experience. Nice work, Miss Dodge!
Pre-K Registration Forms. Check back later for the new Pre-K website feature.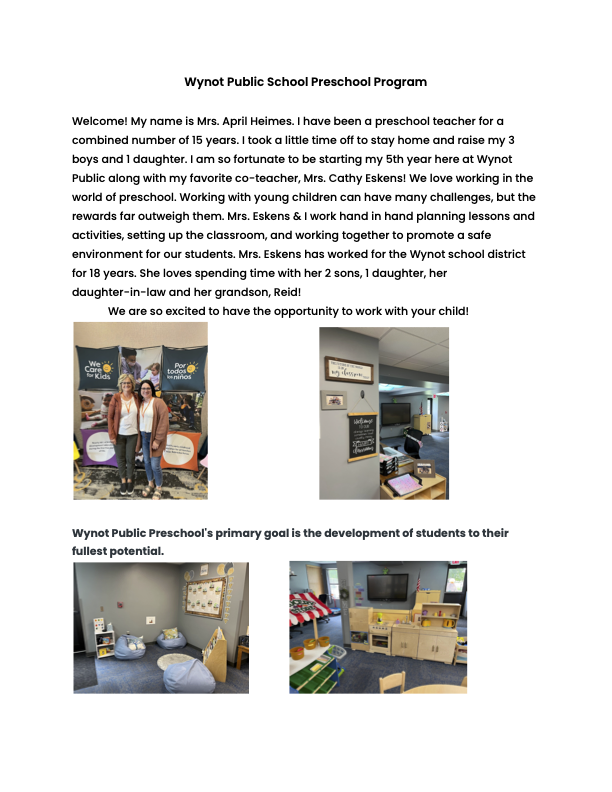 The 5th and 6th grade band students participated in the Bloomfield Honor Band on March 13! The students joined students from area schools and performed a concert directed by Mrs. Pat Sedivy. Participating were Charlie Goeden, Layla Lenzen, Bryar Hans, Kiersten Hans, Hunter Broderson, and Maleah Heimes. Assisting with the day were student directors Hannah Dodge, Benjamin Dodge, Joslyn Hochstein, and Isabelle Heimes.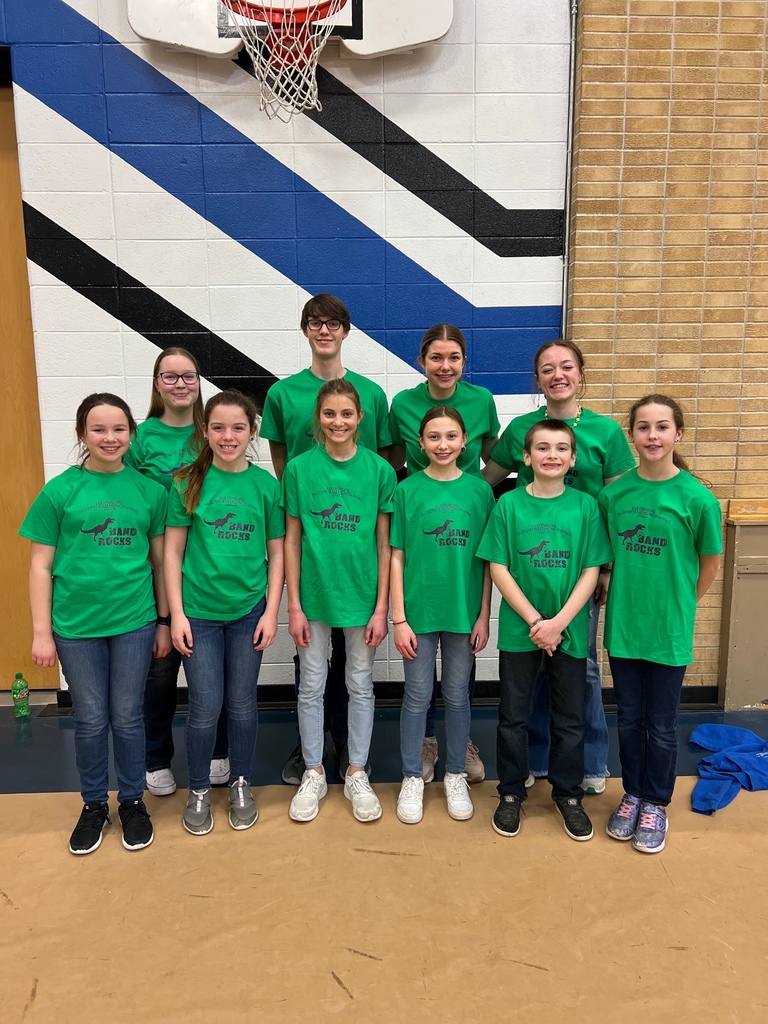 Wynot Band students received recognition at Class D All-State Band on Saturday, March 18! Jazz Band: Isabelle Heimes, trap set Wind Ensemble: Hannah Dodge, 2nd Chair flute; Colin Wieseler, 3rd Chair trombone; Benjamin Dodge, bari sax Symphonic Band: Joslyn Hochstein, flute Also selected for the Symphonic Band was Braesen Schulte, alto sax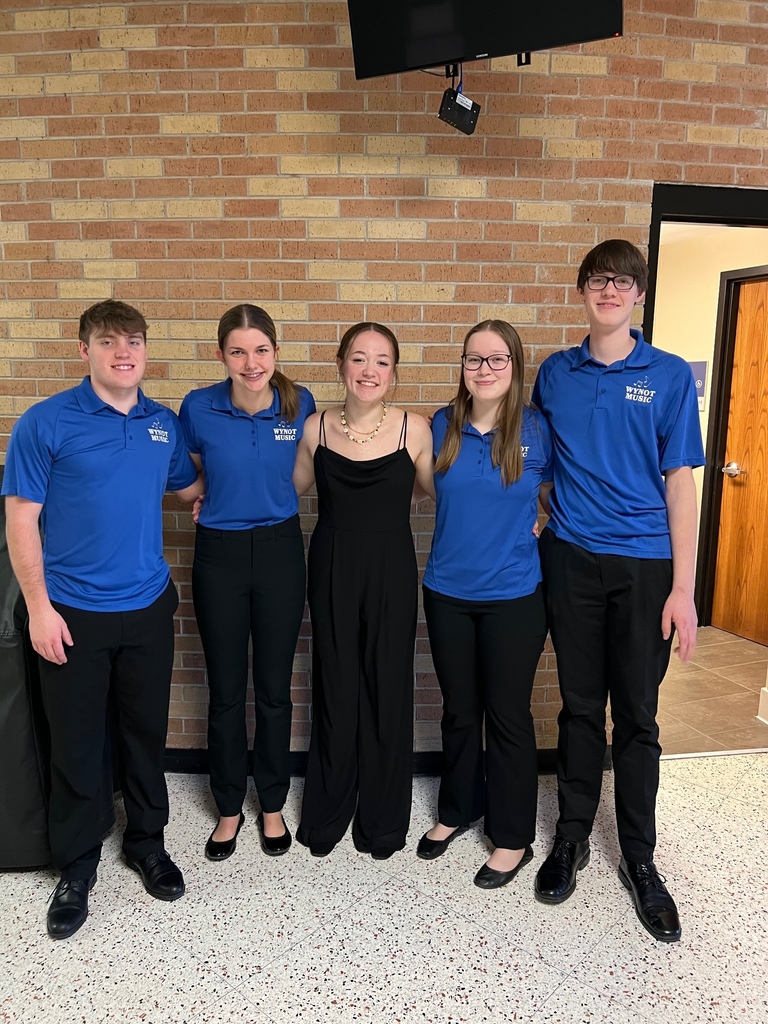 Wynot HS art students attended The Big Show in Wakefield on Mar. 15th. Artworks from the 7-12 students received 3 Judge's Merits, 9 Superiors, and 5 Excellent awards. All the attending school students voted for each school's Outstanding Artist, in which Wynot's trophy was awarded to Kayla Pinkelman!! Also, Wynot participated in the group activity, where they created a mosaic mascot. These students won the group activity with the prize of a large goodie basket!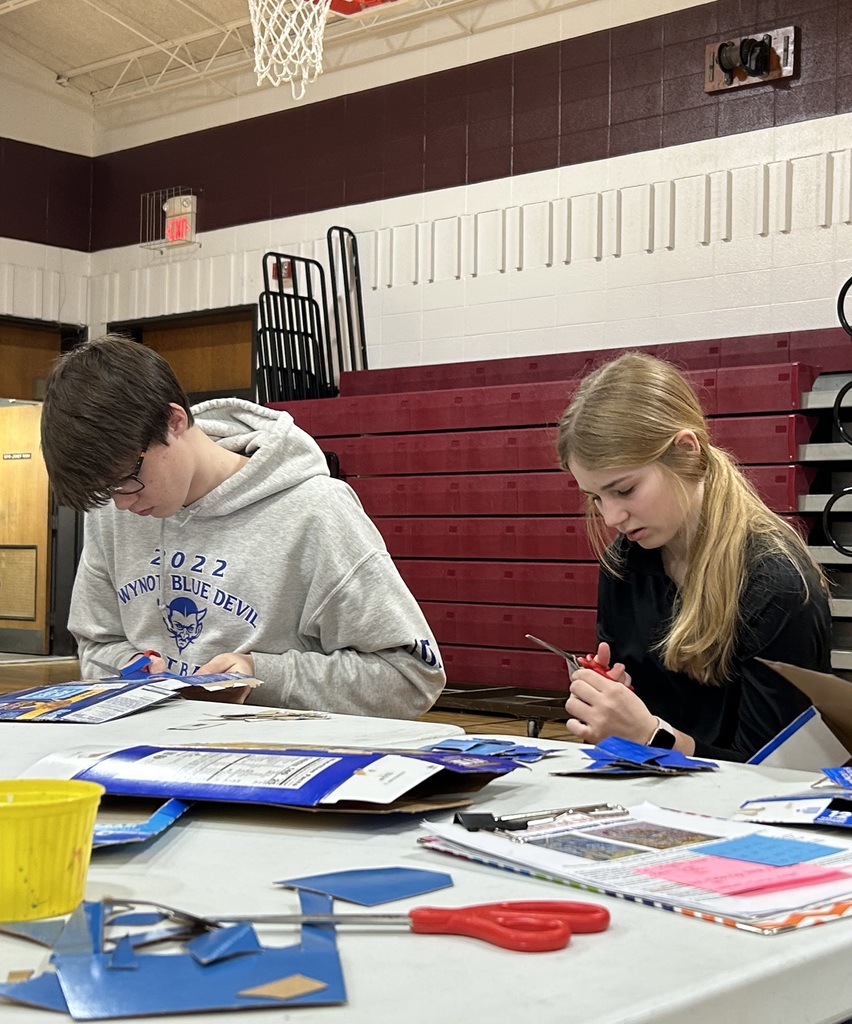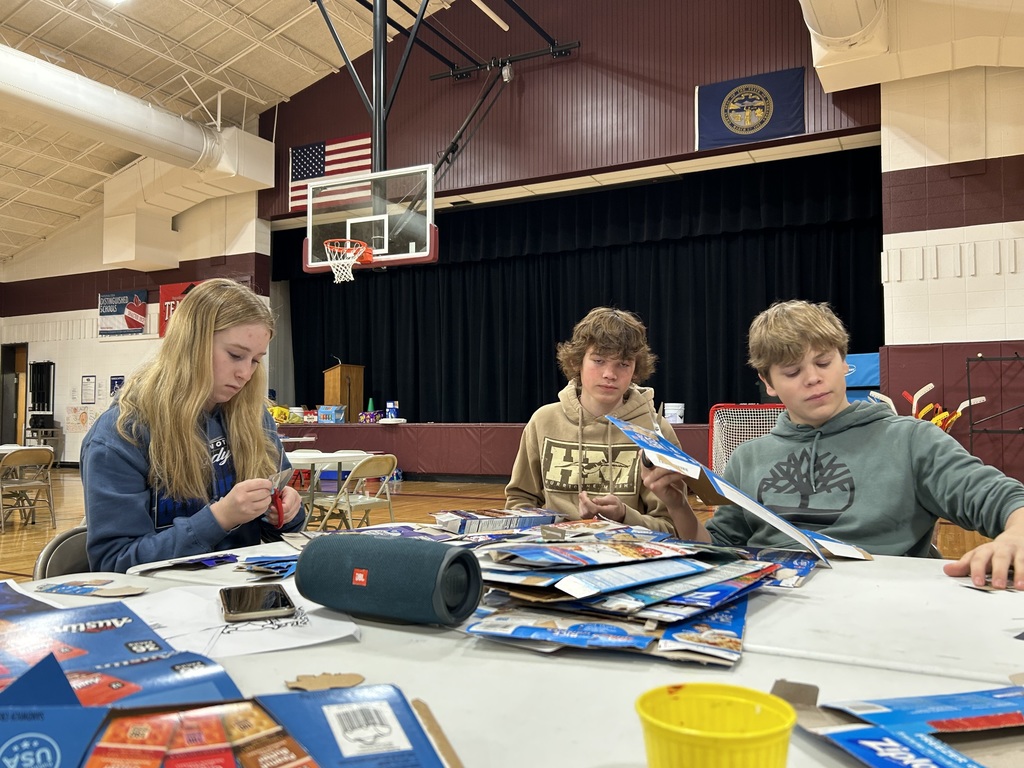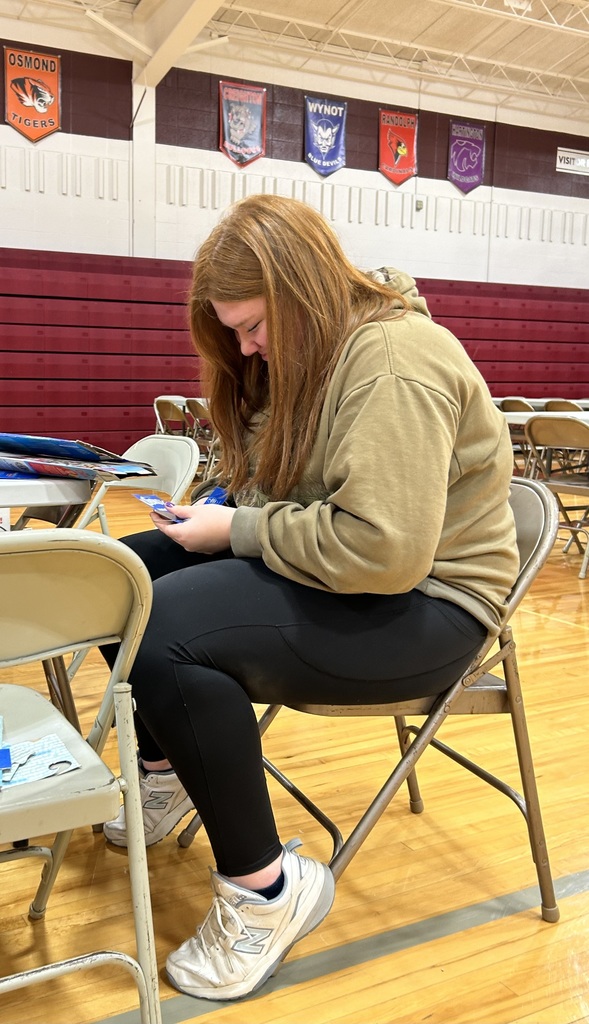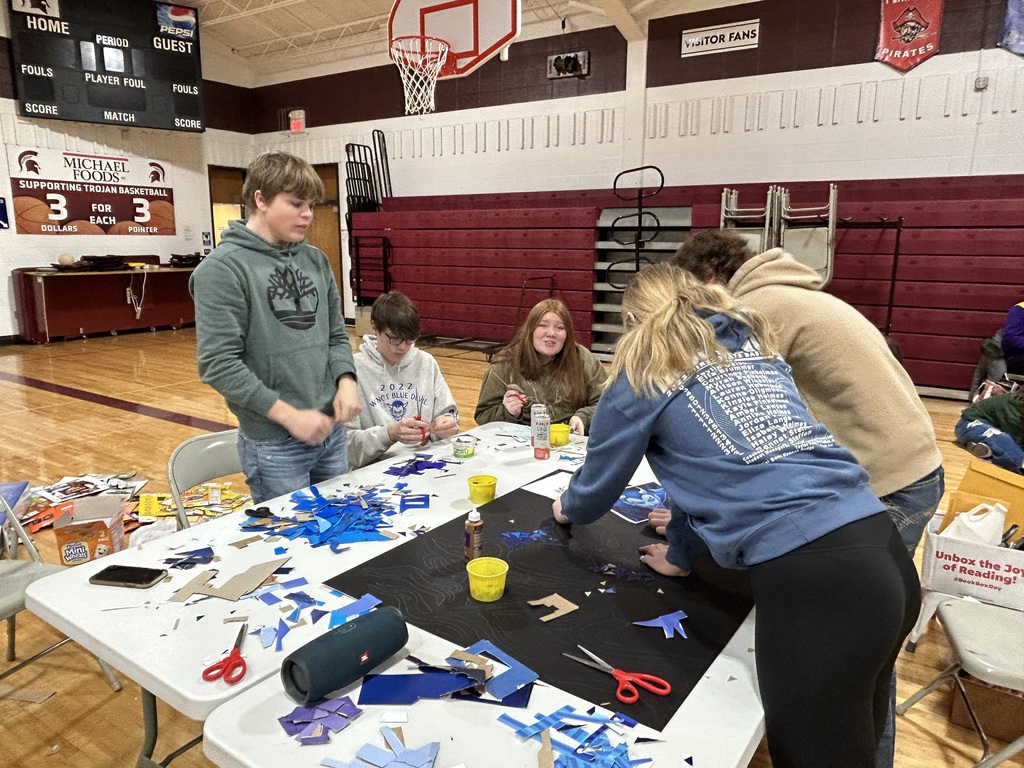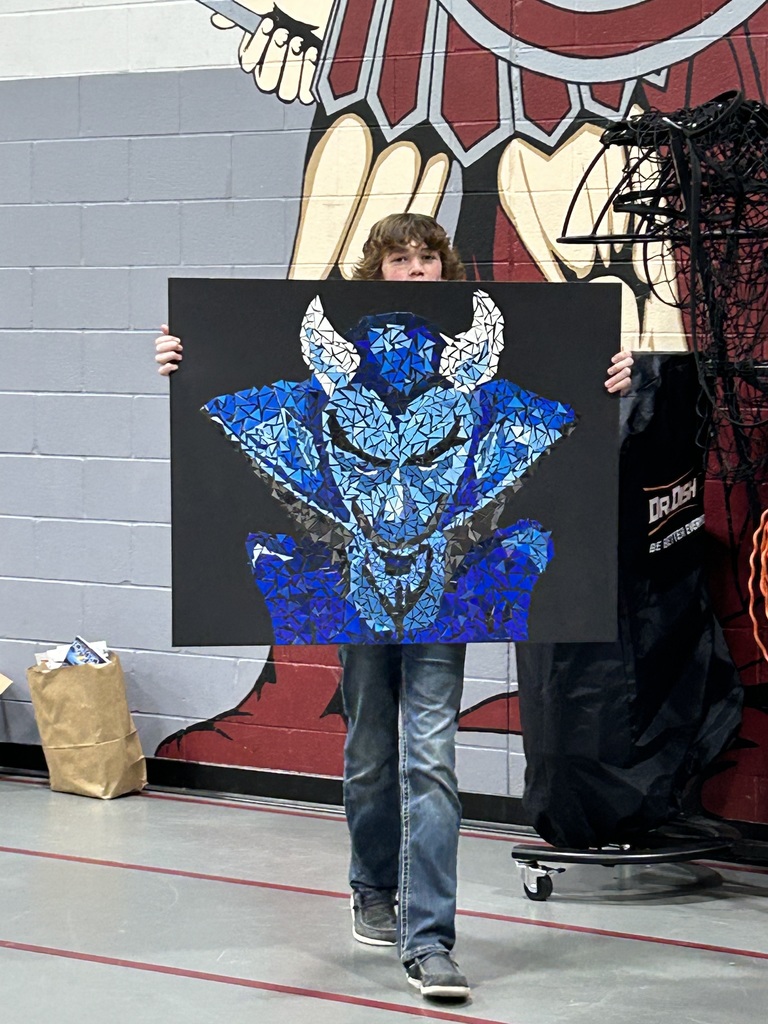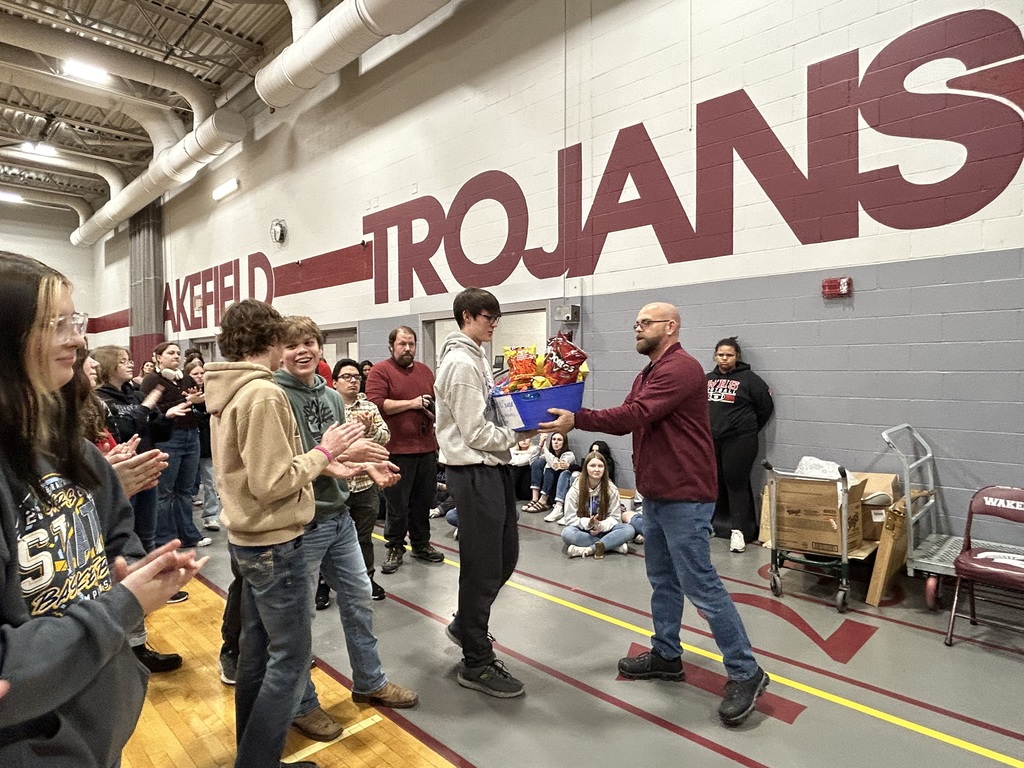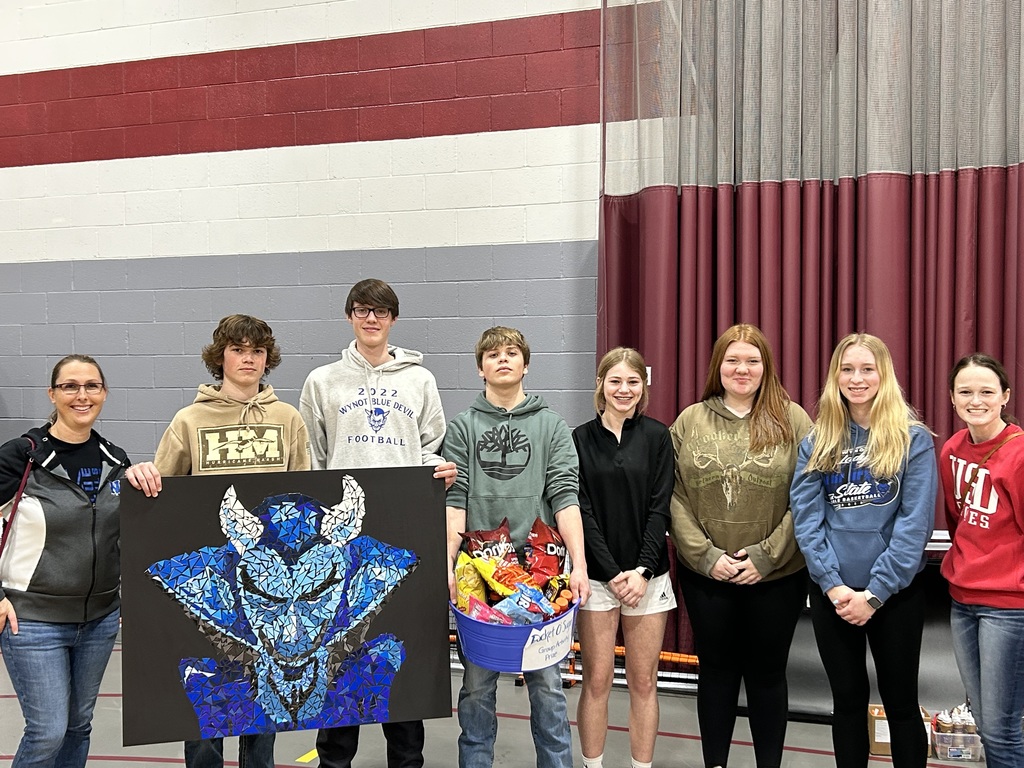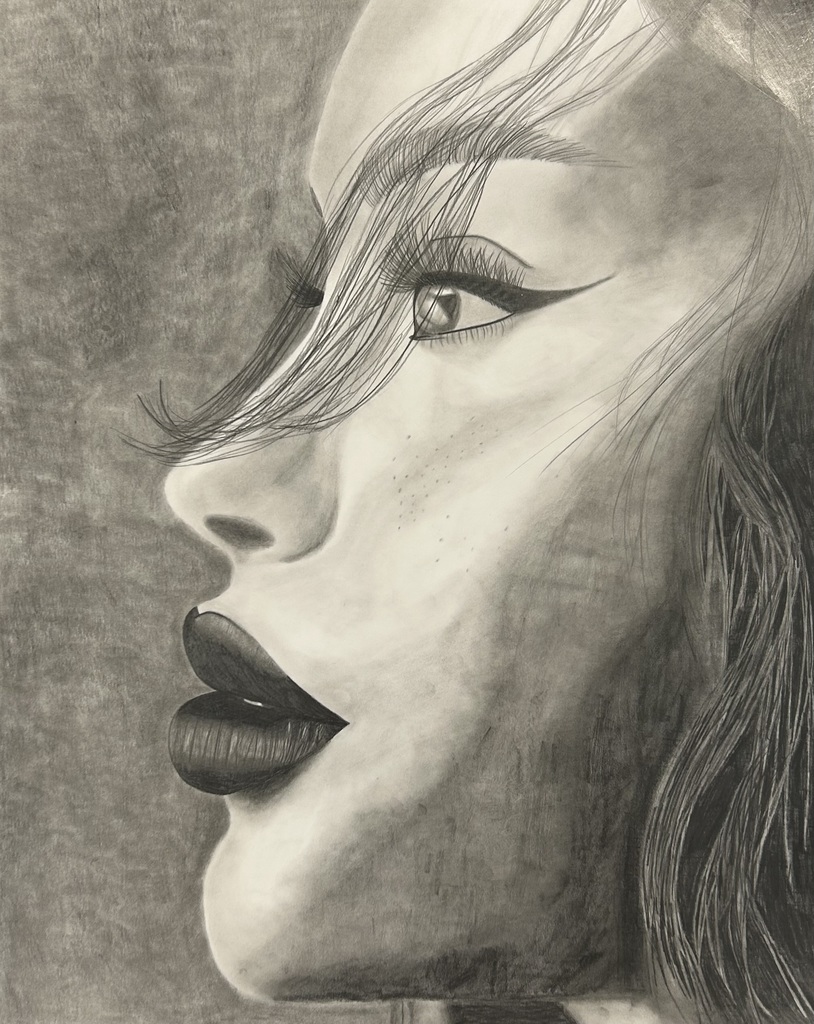 due to high winds and blowing snow. there is no school today.
Due to inclement weather and the possibility of the speech team leaving early we will move the pep rally to tomorrow morning March 14th at 10am. Come and help us celebrate the speech and all state band students as they get ready for state competition. Go Big Blue!
Please join us this evening at 6:30pm in the gym to celebrate the Class D2 State Runner-up basketball team, The Wynot Blue Devils!
Just a reminder that there will be a pep rally in the gym tomorrow morning at 10am for the girls basketball team. All are welcome to join us. Also a reminder that the boys state apparel orders are due tomorrow morning (March 2nd) by 9am. Let's fill the gym with a "Sea of Blue".
Feb. "Artists of the Month" - lower elem., Harper Oligmueller, 2nd grade, "Penguin Sculptures" - upper elem., Kesley Koch, 4th grade, "Aurora Borealis Landscapes" - middle school, Taylor Pinkelman, 8th grade, "Tasty Treat" - high school, Kinslee Heimes, 11th grade, pencil drawing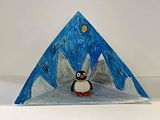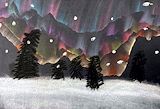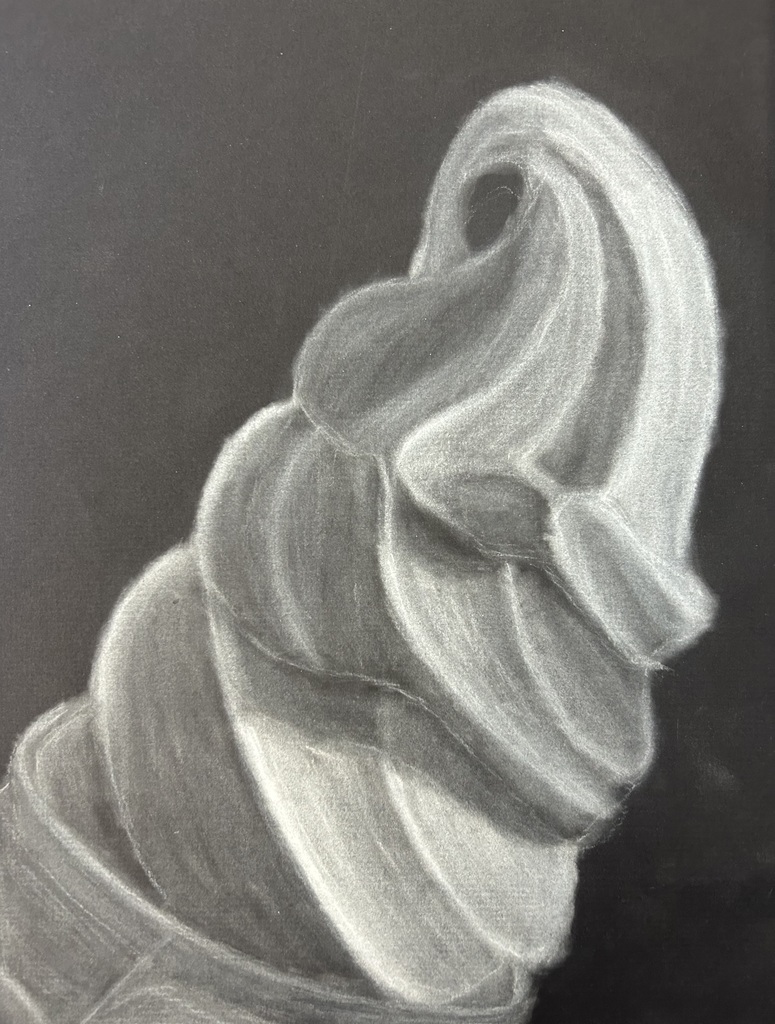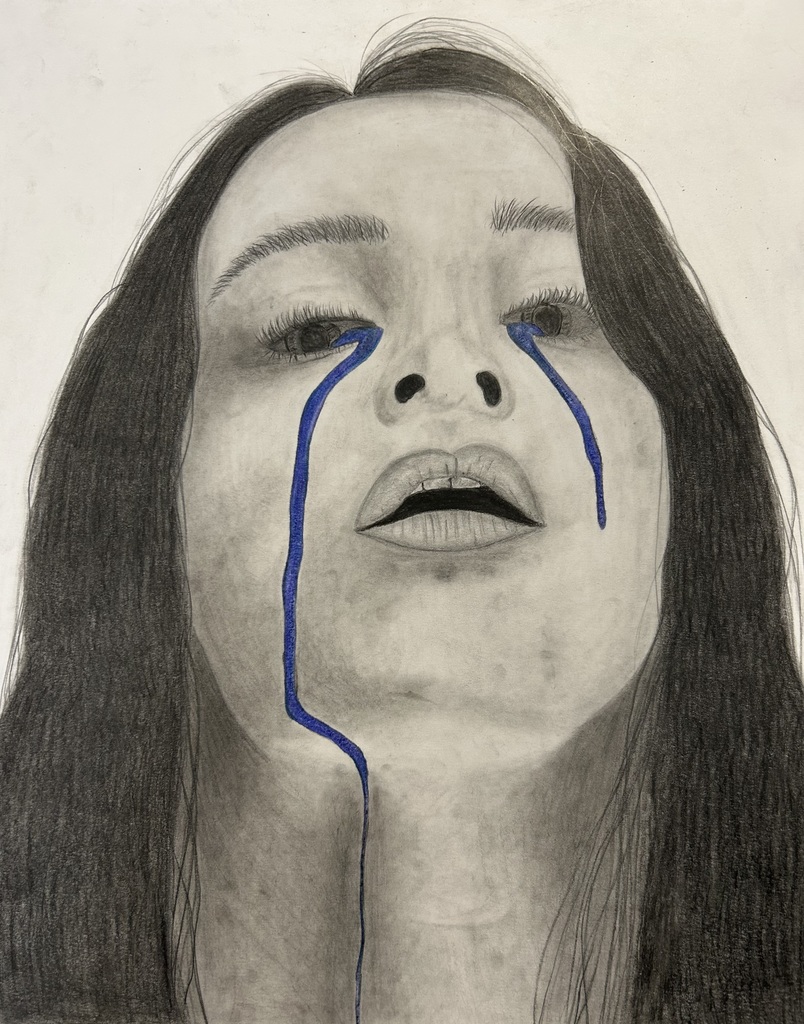 Congratulations to the boys basketball team on their district win against Hay Springs last night. With the win, they earned their trip to the Nebraska State Basketball tournament next week in Lincoln. State apparel order forms will be due back in the office by Thursday morning March 2nd at 9am.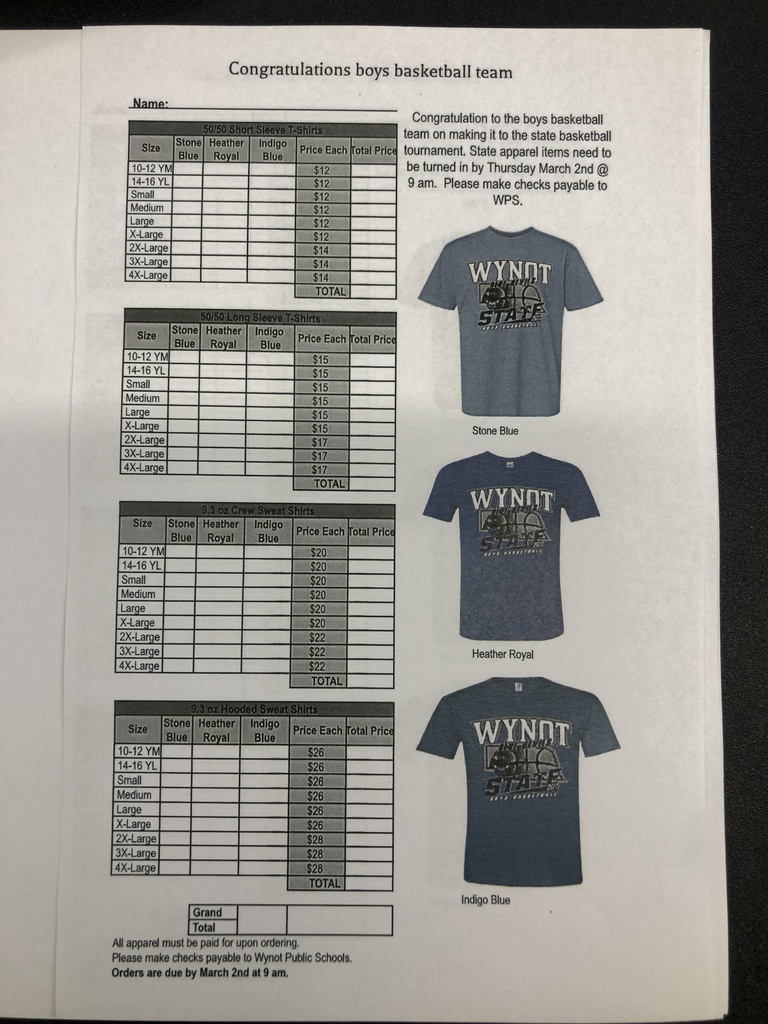 (Revised Honor Roll) Congratulations to the students who made Semester 1 Honor Roll! A few revisions were made to the original list as a result of a some inaccuracies within PowerSchool. Awesome job Blue Devils!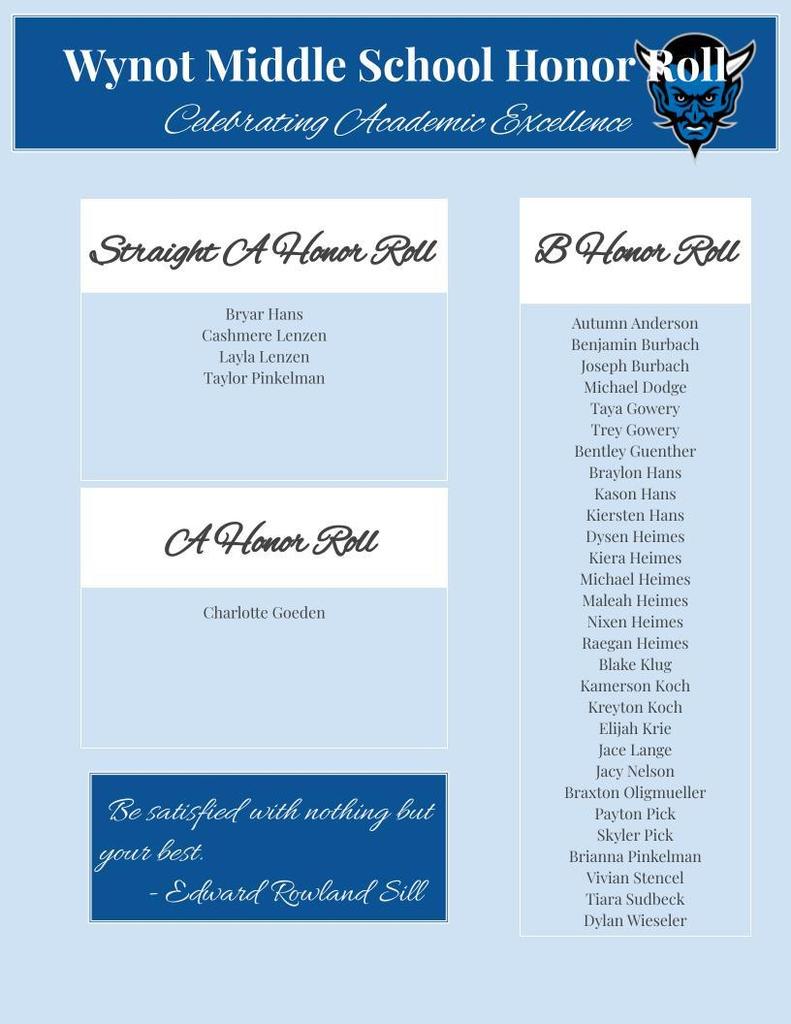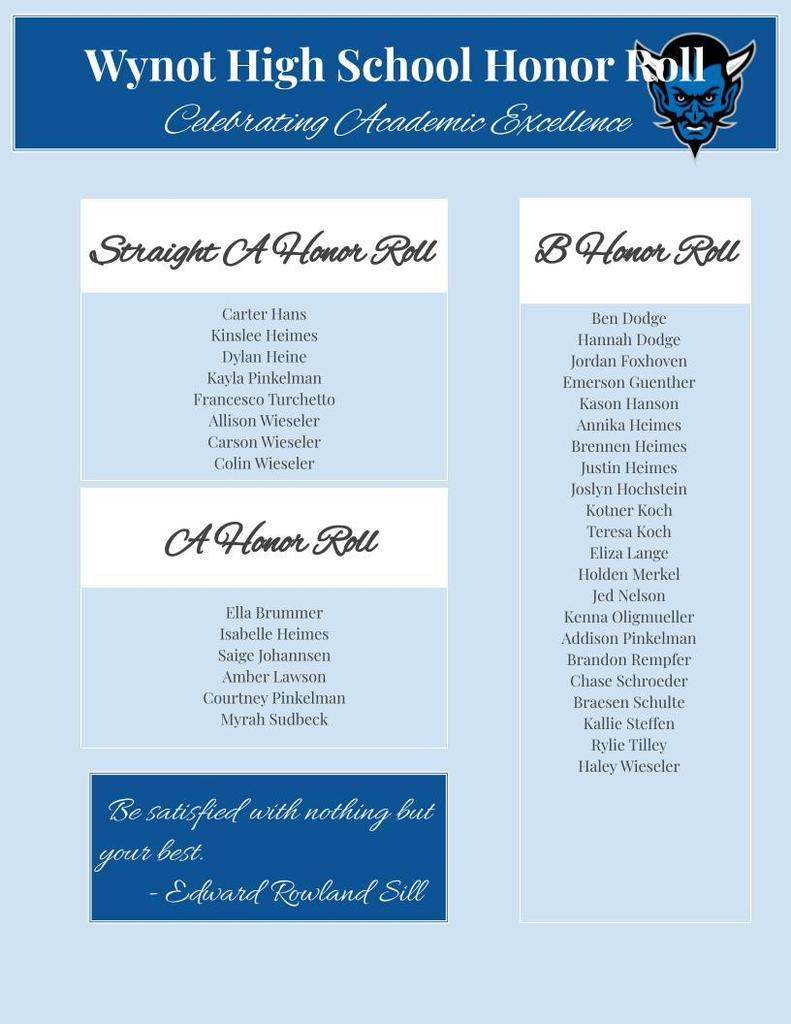 The Wynot Band is having a fundraiser! Please consider supporting the students as they raise funds for a future band trip as well as instruments and repairs needed for the band program. In the past several years, the band has been able to add new percussion equipment, a bass guitar, and a few used instruments that are in great shape. Visit
www.clubschoicefundraising.com
and use the school code WYNOT22. If you live out of town, you can have your items shipped to your home! You can also talk to any band student to order from them in person!
The Wynot boys basketball team will play on Monday February 27th at 6pm in Ainsworth Nebraska against Hay Springs. The Wynot girls basketball team will play at state on Thursday March 2nd at 7:45pm at Bob Devaney Sports Center against St. Mary's. The girls state apparel order forms need to be turned in on Tuesday February 28th by 9am. Thank you.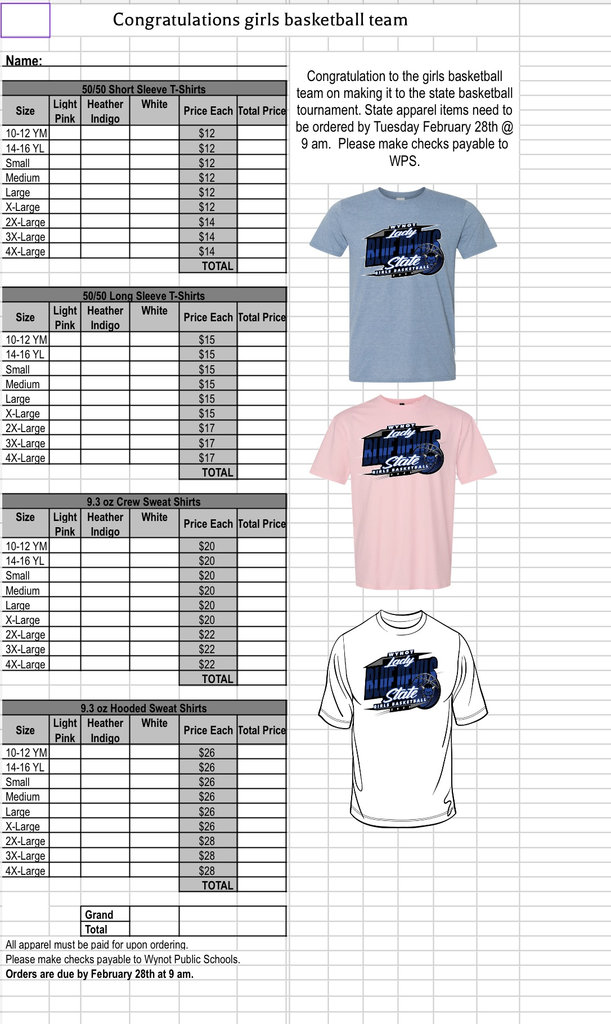 A HUGE THANK YOU to our wonderful fans who came out to support the boys and girls basketball teams tonight! You answered the call and filled the gyms and helped both teams come out victorious. The girls punched their ticket to state with a 54-36 win against Overton and the boys won their Sub-District with a 68-44 win over Wausa! Congratulations to both teams and THANK YOU fans for your support! Go Big Blue!
CALLING ALL WYNOT FANS AND ALUMNI! Due to unforeseen circumstances the Wynot girls and boys basketball teams will both be playing tomorrow night. The girls will be in Seward playing Overton at 6pm in the District Final to make it to state and the boys will be in Wynot playing Wausa at 7pm for the Sun-district Final. Let's see if we can fill the gyms and cheer on both teams to a victory. So if you live anywhere close to these locations and can come out and cheer on the Blue Devils, the basketball teams and coaches would greatly appreciate it! Good Luck and Go Big Blue!