Happy Friday WPS Community! Be looking for Mrs. Francis' Newsletter for updates on current happenings and school initiatives. Have a great holiday weekend!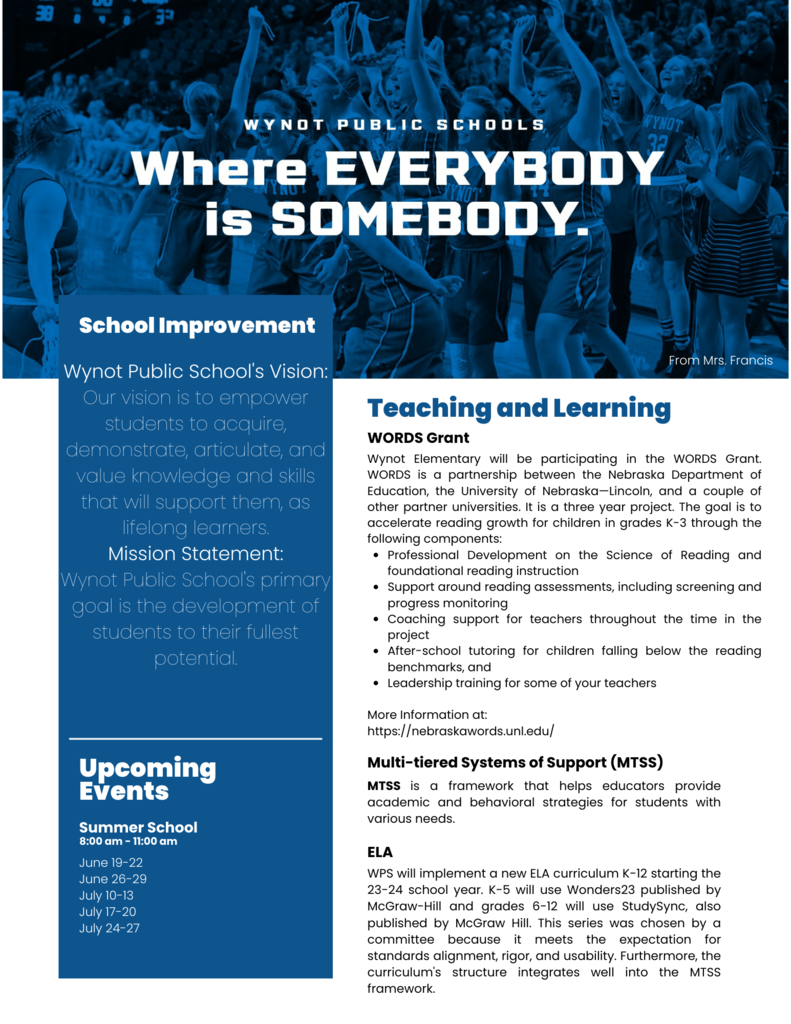 State Track Meet Results from Omaha Chase Schroeder 6th in the 800 2:01.68, 7th in the 400 52.22 Dylan Heine 9th in the High Jump 5-10, 11th in the Triple Jump 41-.25 Jude Krie 12th in the Long Jump 19-6.5 4x800 Meter Relay got 14th 9:10.03, Dylan Heine, Korbin Guenther, Cooper Oligmueller, Chase Schroeder. 4x100 Meter Relay got 13th 52.76 Kinslee Heimes, Eliza Lange, Jordan Foxhoven, Myrah Sudbeck Congratulations to the Wynot track team on a good season and to those qualifying for state. Great job.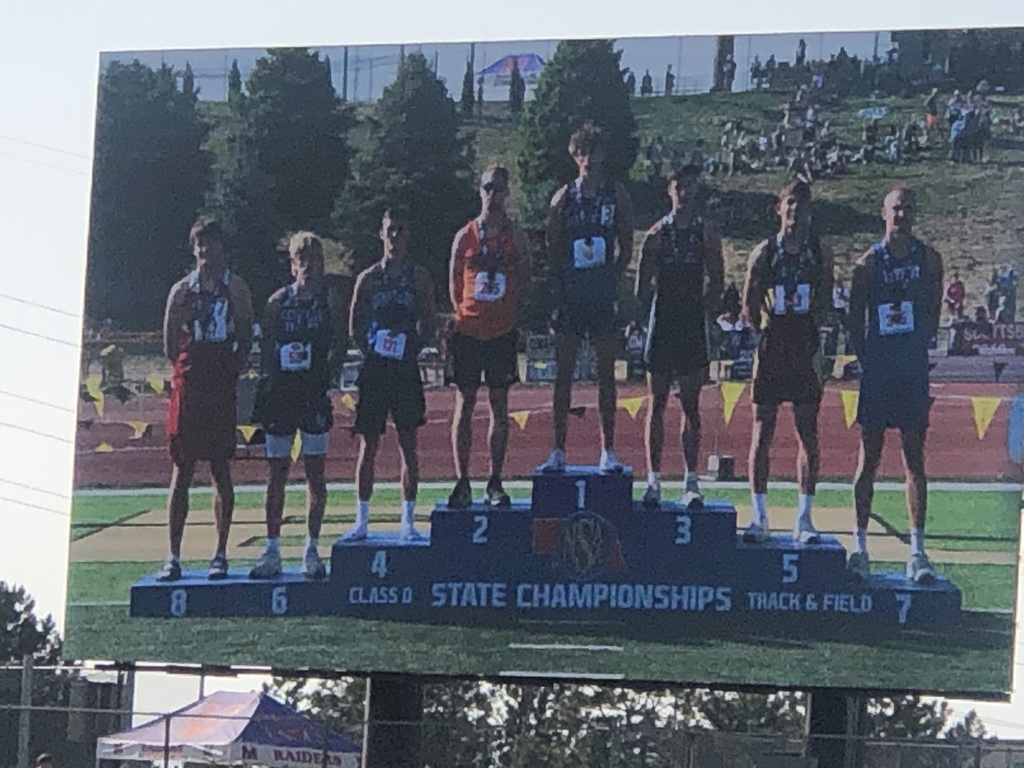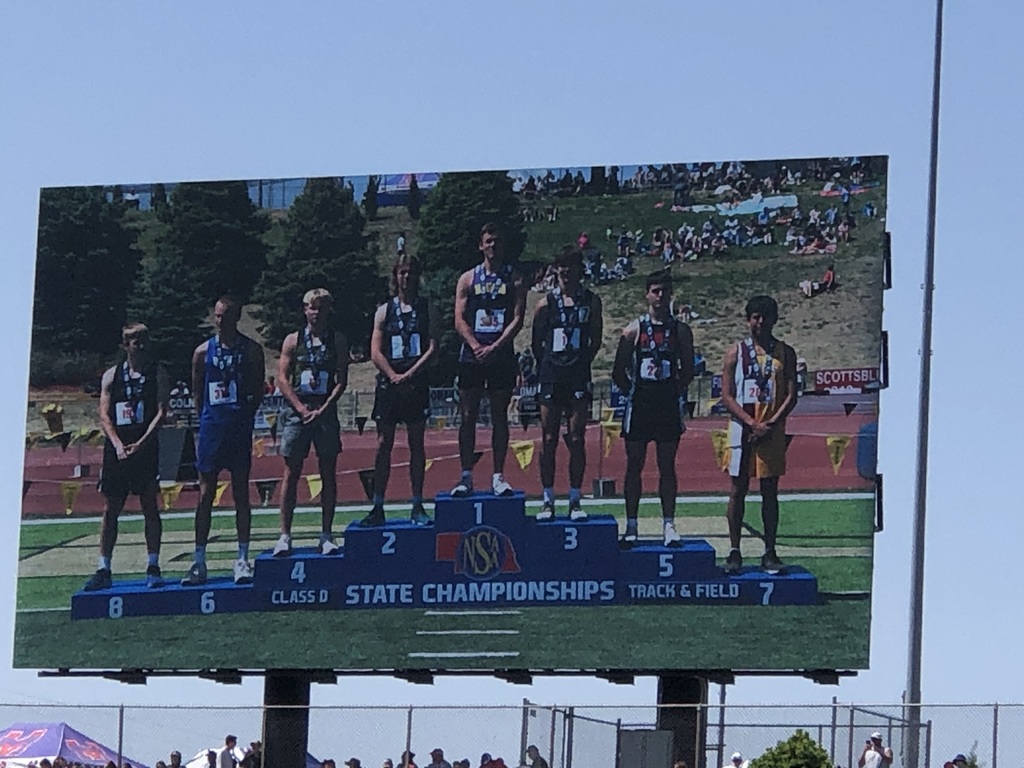 Here are the results from district golf that was held at Fairplay Golf Course in Norfolk on Tuesday this week. Crofton earned 5th place as a team behind Pierce, Ponca, Norfolk Catholic and Cedar. Individual scores are as follows. Carson Wieseler got 15th with an 88. Zack Foxhoven got 27th with a 92 and Andrew Haberman got 38th with a 95. Congratulations golfers on a good season.
Isabelle Heimes represented Wynot Public Schools at the National Individual Events Tournament of Champions in Minneapolis this weekend. She competed in Dramatic Interpretation. Congratulations Isabelle on a successful speech season.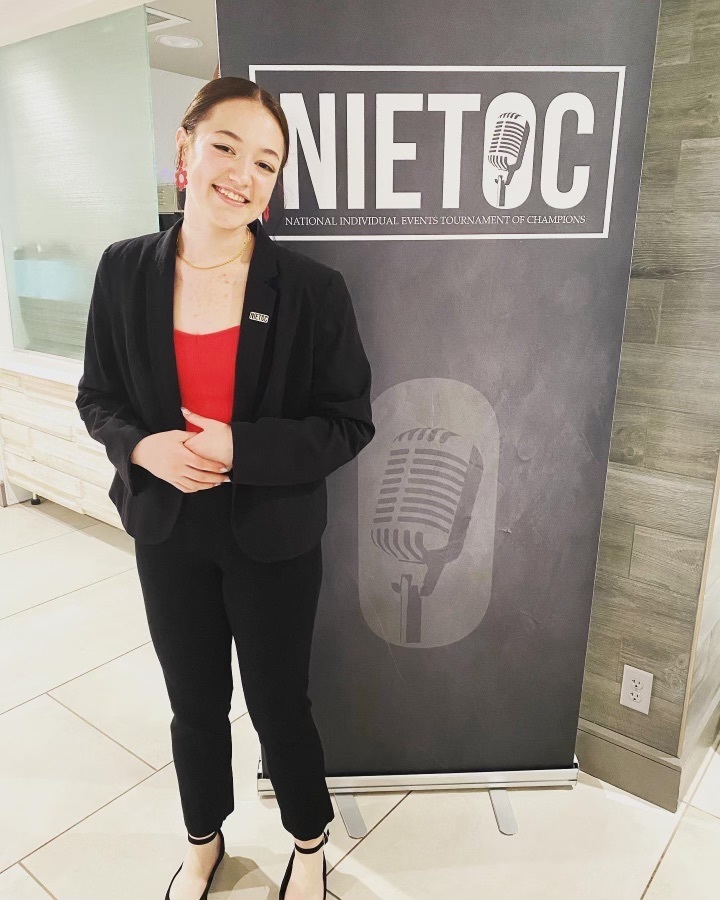 Congratulations to the following athletes who qualified for state track on Friday May 19th and 20th in Omaha at Burke Stadium. Chase Schroeder 800m , 400m and 4x800 relay Dylan Heine Triple Jump, High Jump and 4x800 relay Judah Krie Long Jump Korbin Guenther 4x800 relay Cooper Oligmueller 4x800 relay Francesco Turchetto 4x800 relay alternate Kinslee Heimes 4x100 relay Myrah Sudbeck 4x100 relay Jordan Foxhoven 4x100 relay Eliza Lange 4x100 relay Kenna Oligmueller 4x100 relay alternate Way to go team and good luck!
Congratulations to our Esports team at state. Wynot team 1 earned 2nd place for Division 4 Super Smash Brothers Ultimate. Wynot team 2 earned 4th place for Super Smash Brothers Ultimate 2 v 2 . The team also were co-winners of the esports cup! Awesome job team. Pictured left to right in the front row are Brandon Rempfer, Holden Merkel, Kailen Hanson, and Justis Collins. In the back row (left to right) are Parker Schmidt, Benjamin Dodge, James Collins, and Korbin Guenther. Other esports participants this year (not pictured) included Francesco Turchetto, Rylie Tilley, Joseph Burbach, and Bentley Guenther.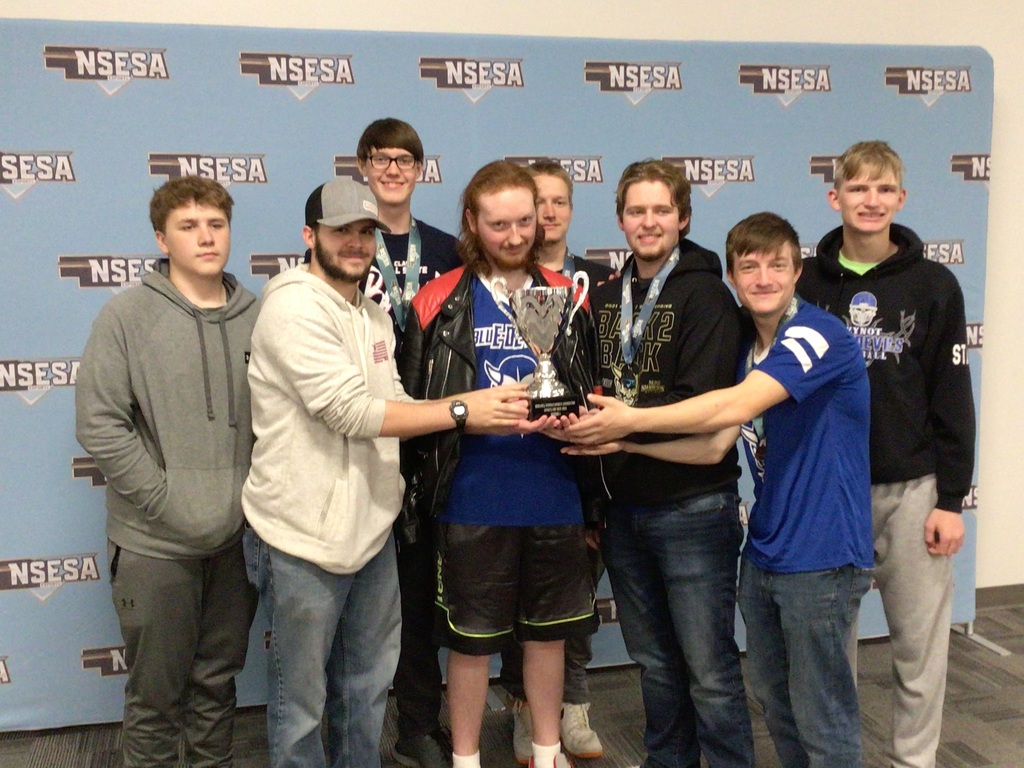 Wynot Basketball Ca mp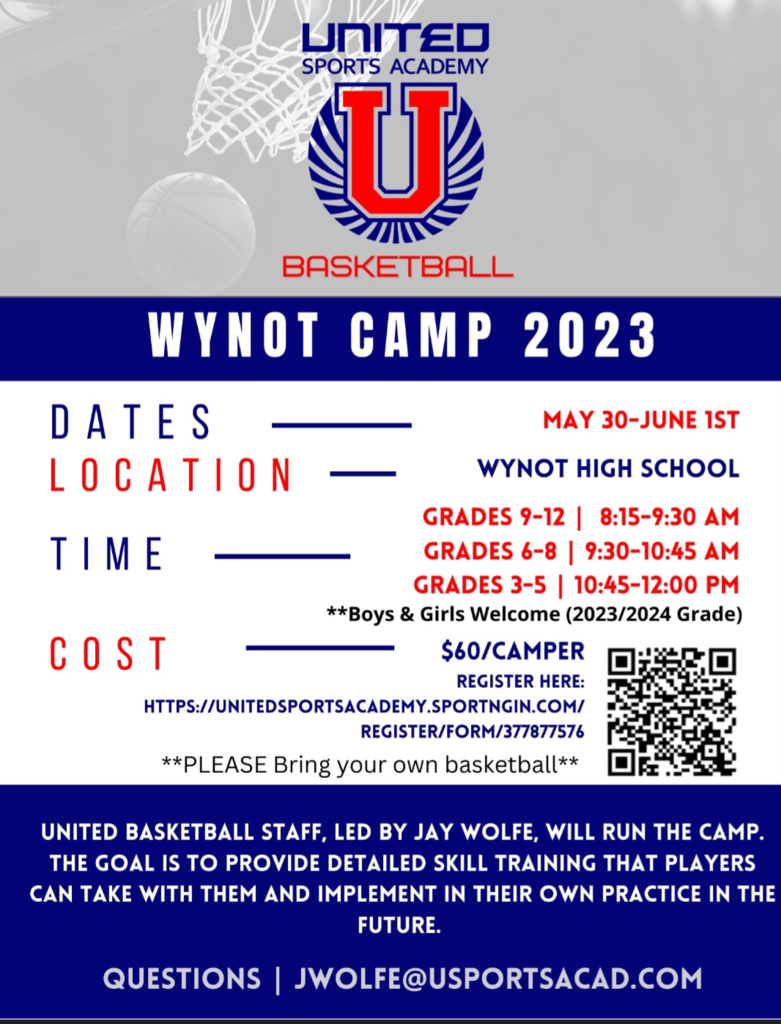 .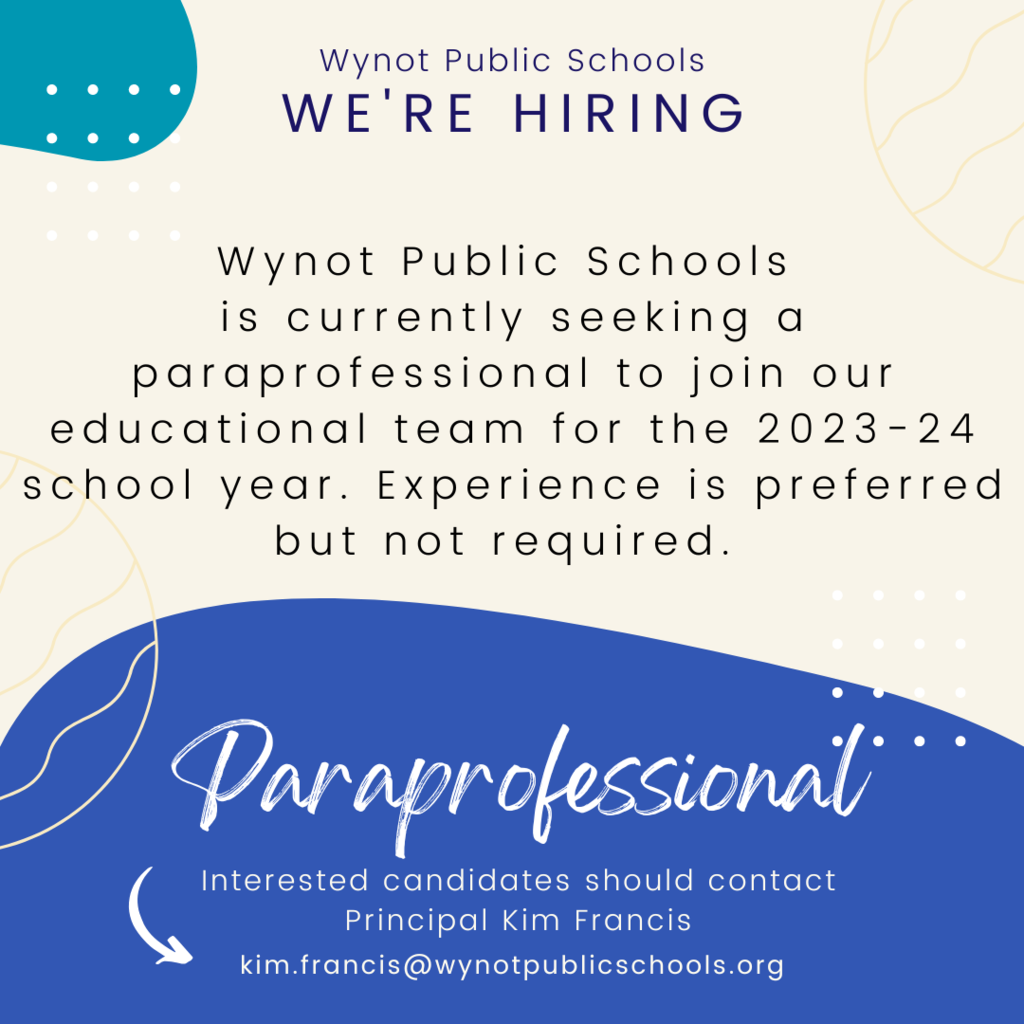 April "Artists of the Month" - lower elem., Kyra Koch, 1st grade, "Color Birds" - upper elem., Emmett Miles, 4th grade, "Painting Bright Colors of the Rainforest" - middle school, Taya Gowery, 5th grade, "Surfin' USA Names" - high school, Emersyn Guenther, 9th grade, charcoal drawing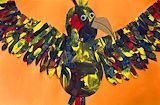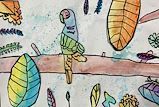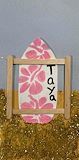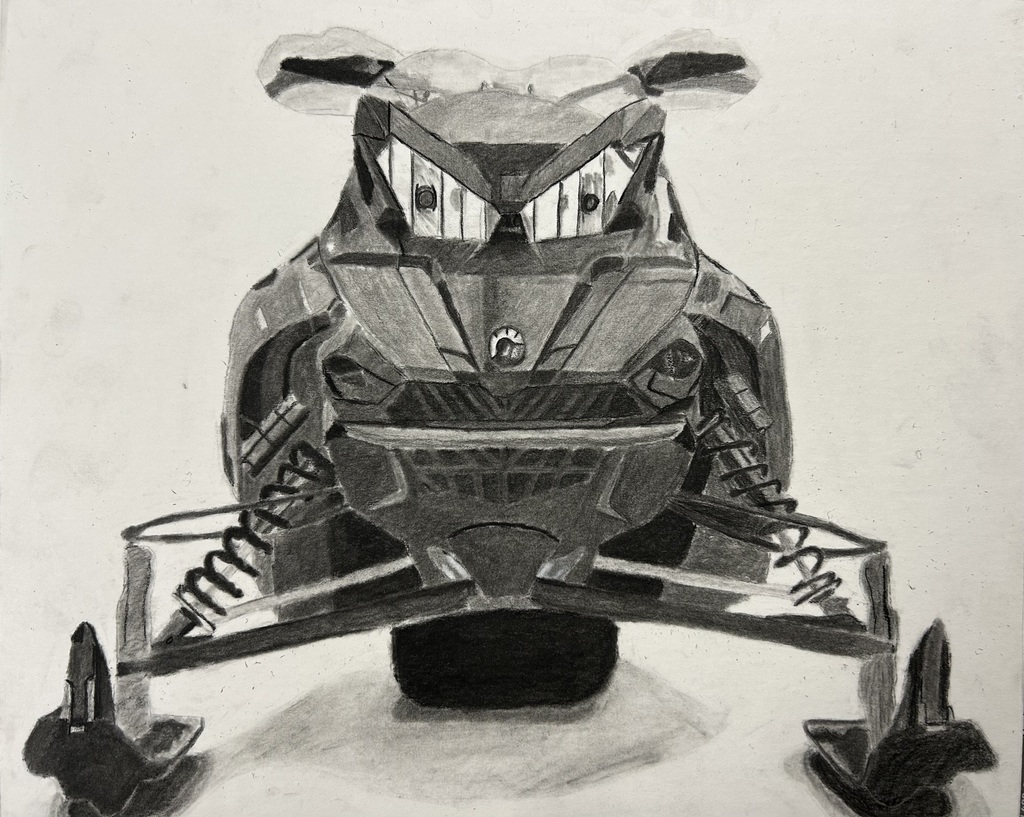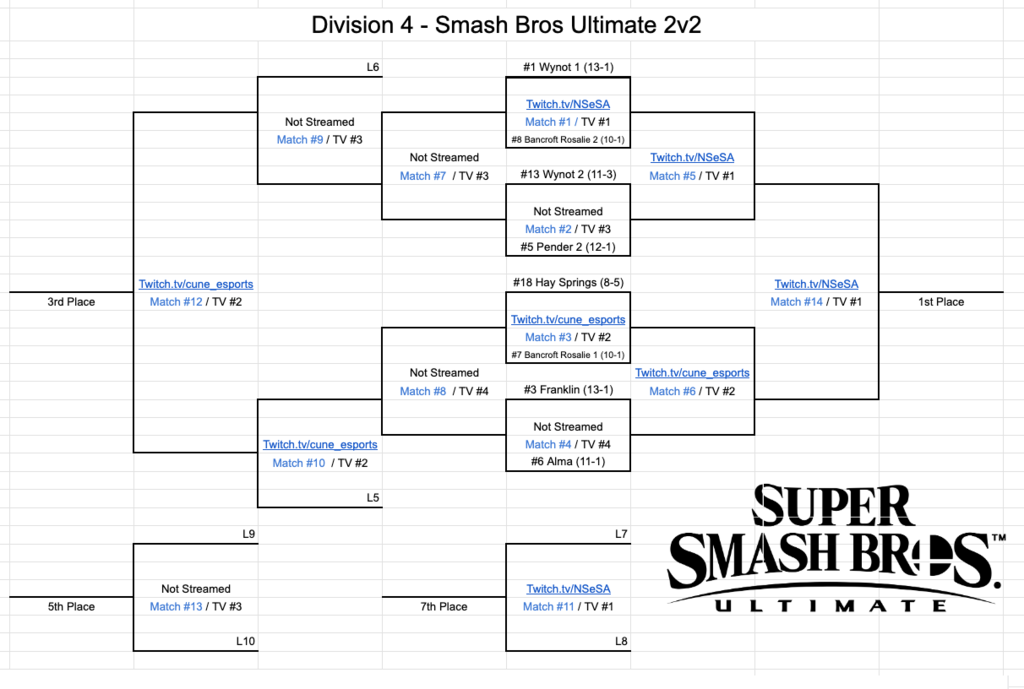 District Music Results: Way to Go! You are great musicians. Concert Band: I (From all three judges) Mixed Chorus: I (From all three judges) Women's Ensemble (Izzy, Kallie, Rylie, Eliza, Hannah, Joslyn, Addison, Lauren, Annika): I Men's Ensemble (Colin, Jude, Korbin, Cooper, Benjamin): I Barbershop Quartet (Colin, Jude, Hannah, Izzy): I (Perfect score) Sophomore Sextet (Addison, Joslyn, Kallie, Eliza, Cooper, Benjamin): I Hannah Dodge Vocal Solo: I Isabelle Heimes Vocal Solo: I (Perfect score) Joslyn Hochstein Vocal Solo: I Benjamin Dodge Vocal Solo: I Jude Krie Vocal Solo: I Rylie Tilley Vocal Solo: II Annika Heimes Vocal Solo: I Joslyn Hochstein Piano Solo: I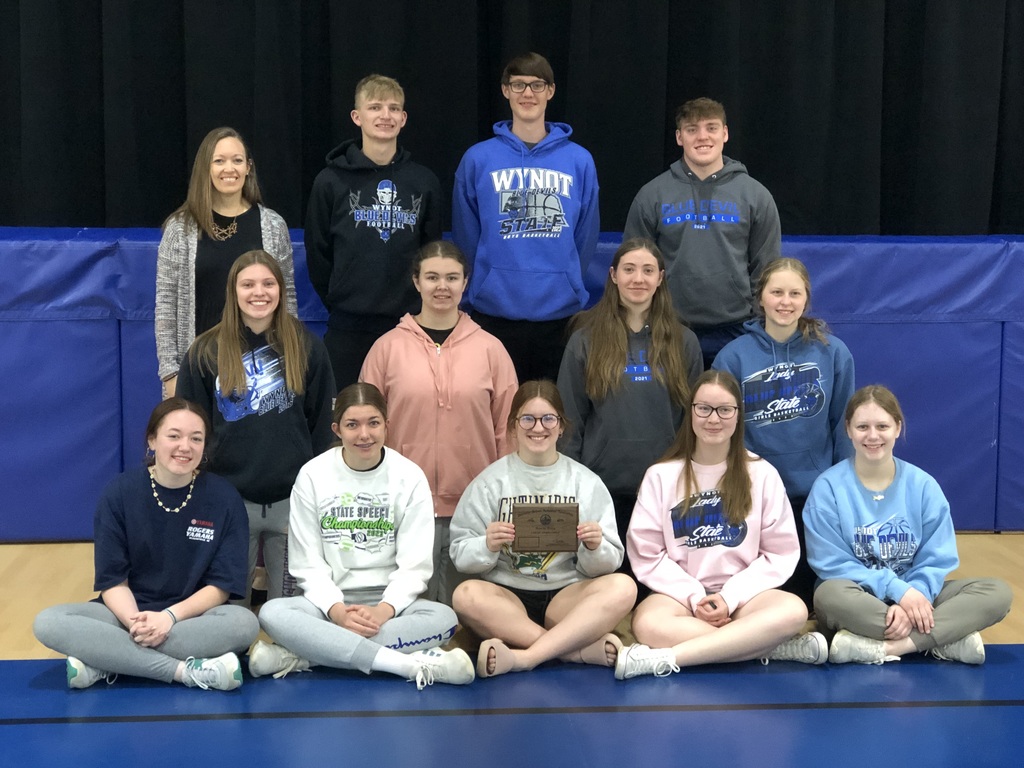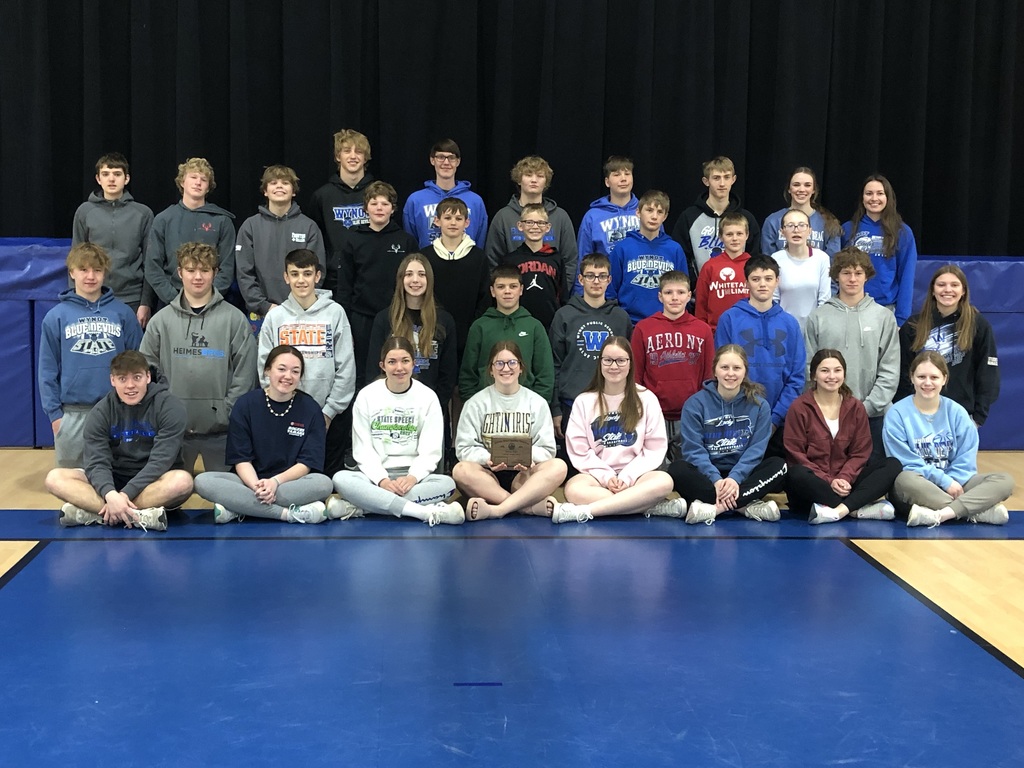 Amber Lawson signs a letter of intent to play basketball for the Northeast Community College Lady Hawks.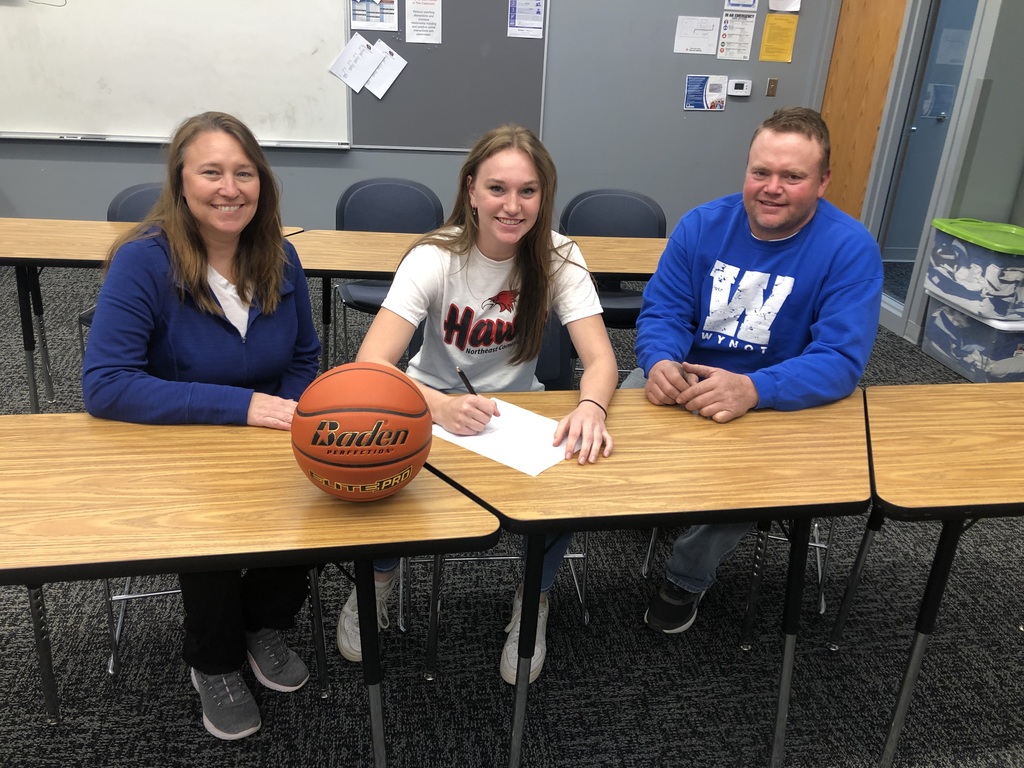 Yearbooks on sale!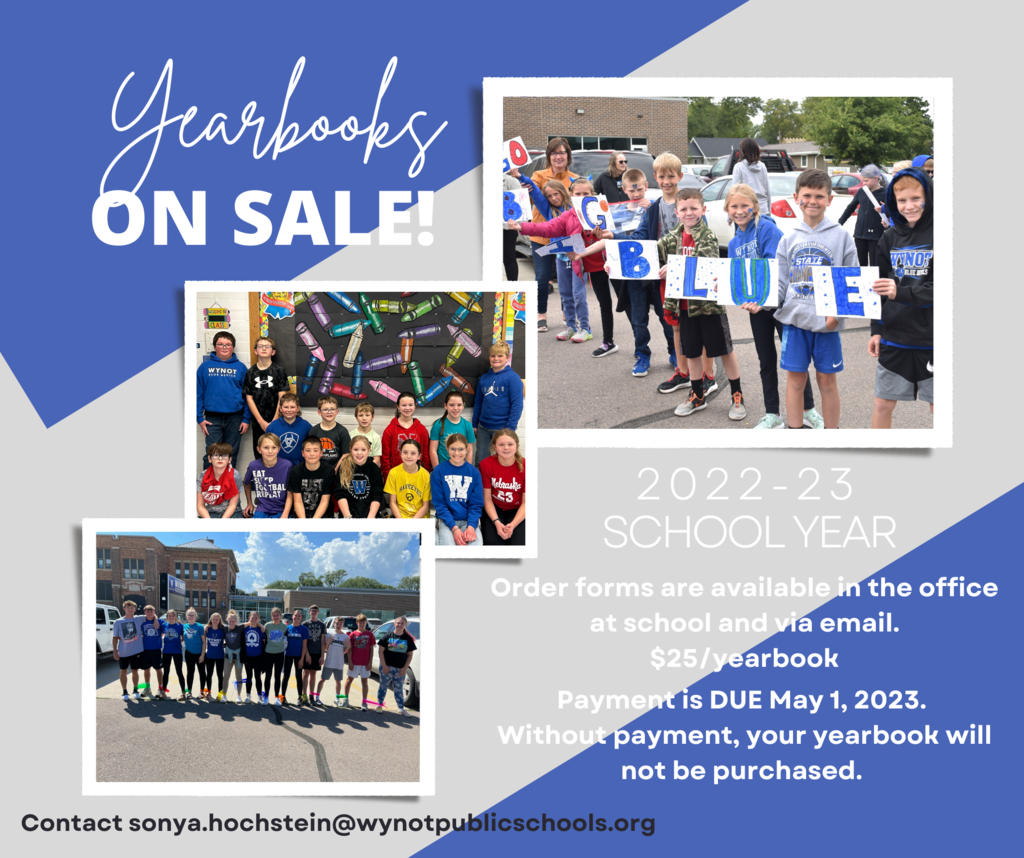 Reminder the RSVP that was sent in the mail and the payment for the Awards Banquet is due tomorrow.
WPS Parents, Student Registration is Tuesday, April 4th. Be looking for a letter in the mail that details requirements and course offerings for the 23/24 school year. Freshman parents, the requirement list sent via snail mail is incorrect and should read English 10, American History, Biology, P.E 10, and Math (Algebra l or Geometry). This is the first year students will register using PowerSchool. Mrs. Francis and Mrs. Hochstein will assist students with registering at school. The registration process will help administration determine what courses are offered next year. Course descriptions are available on the school's website.
https://www.wynotpublicschools.org/page/course-information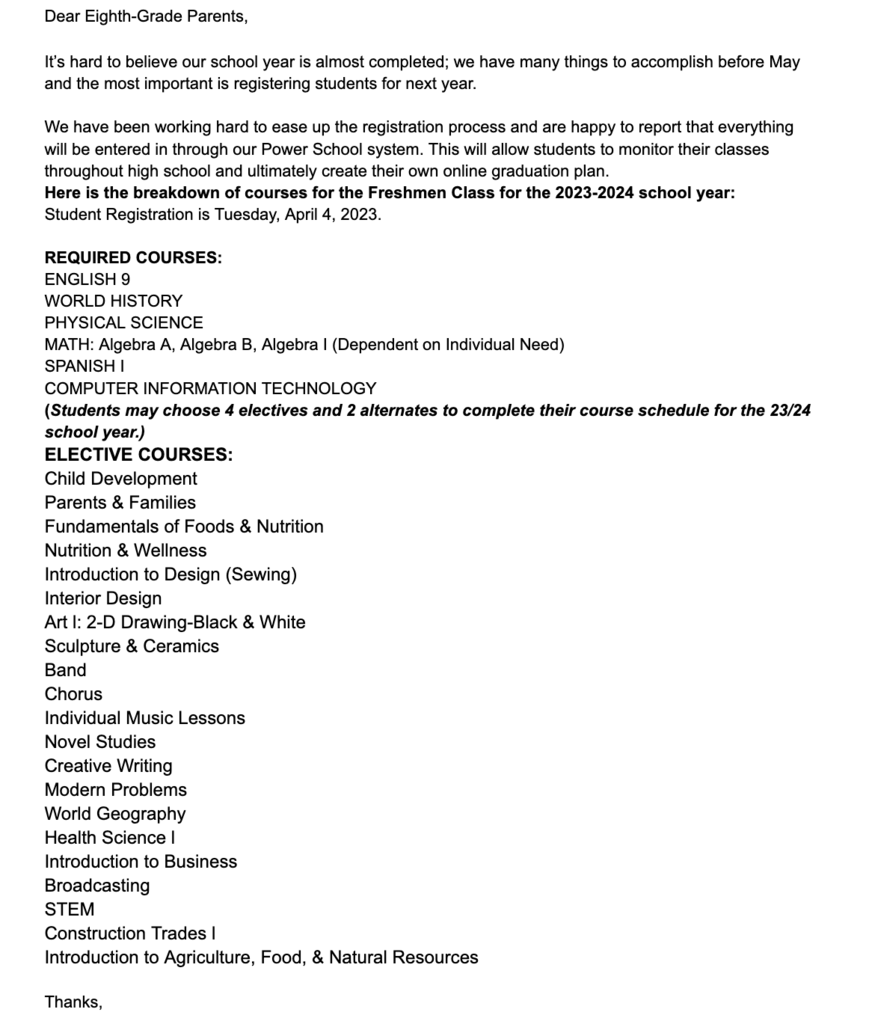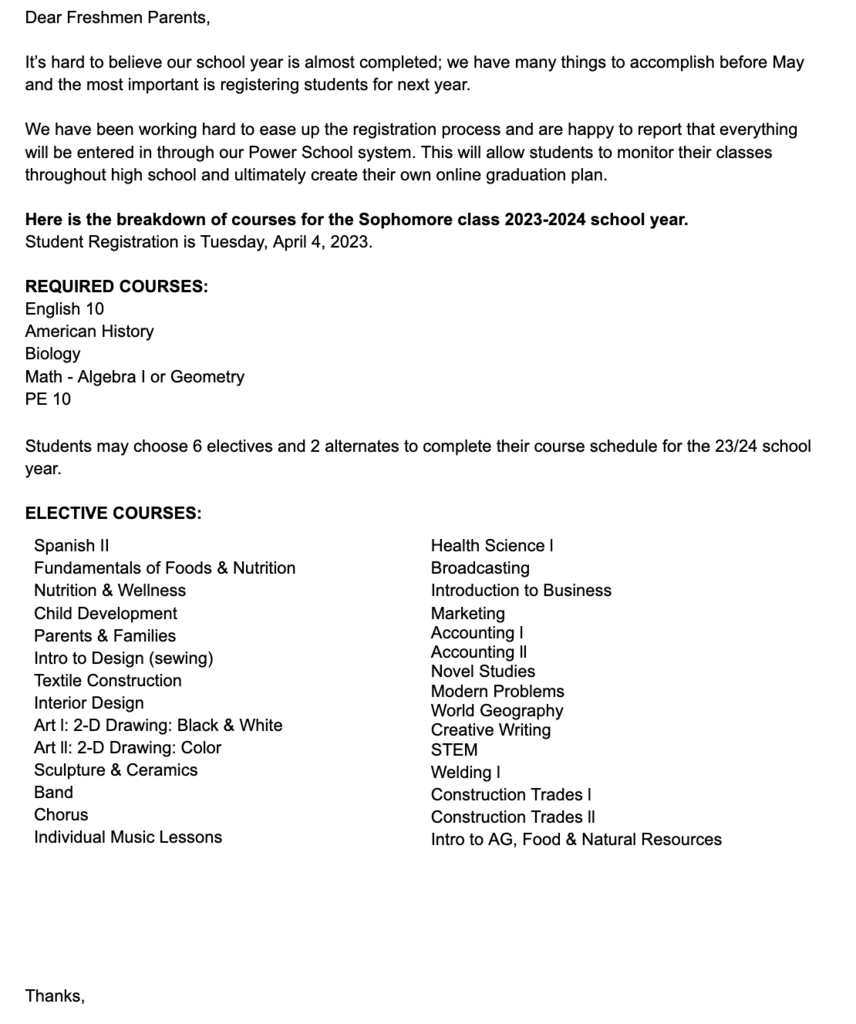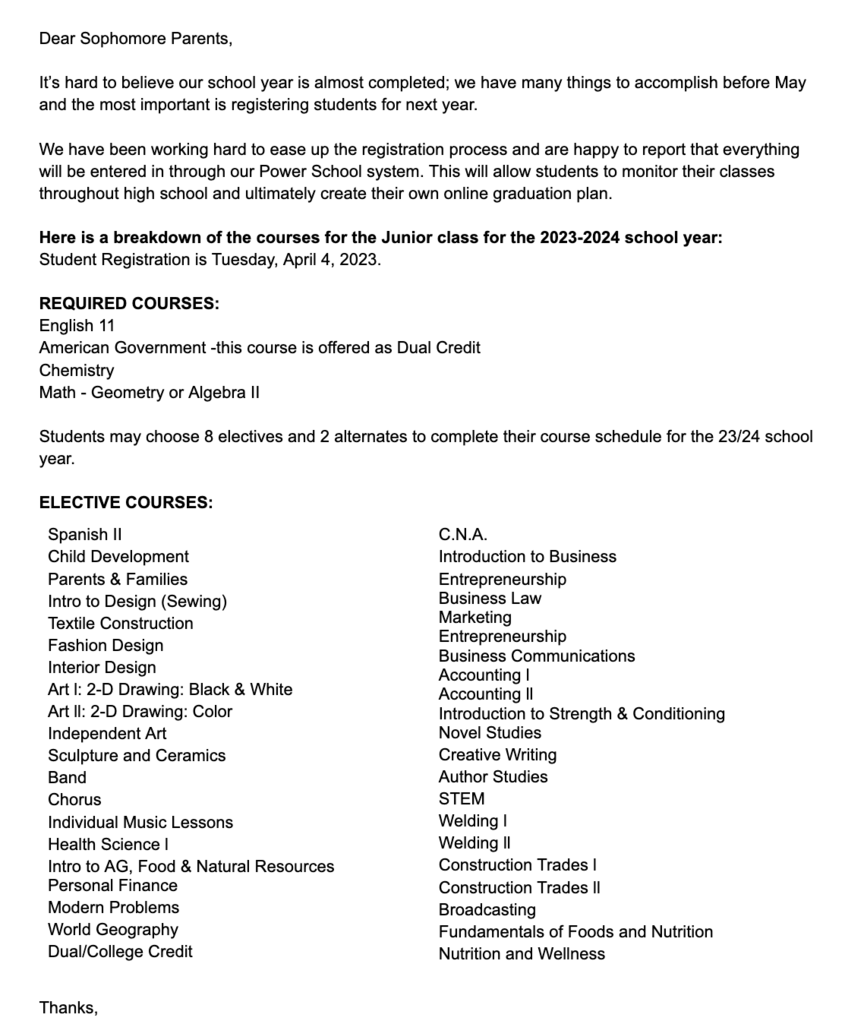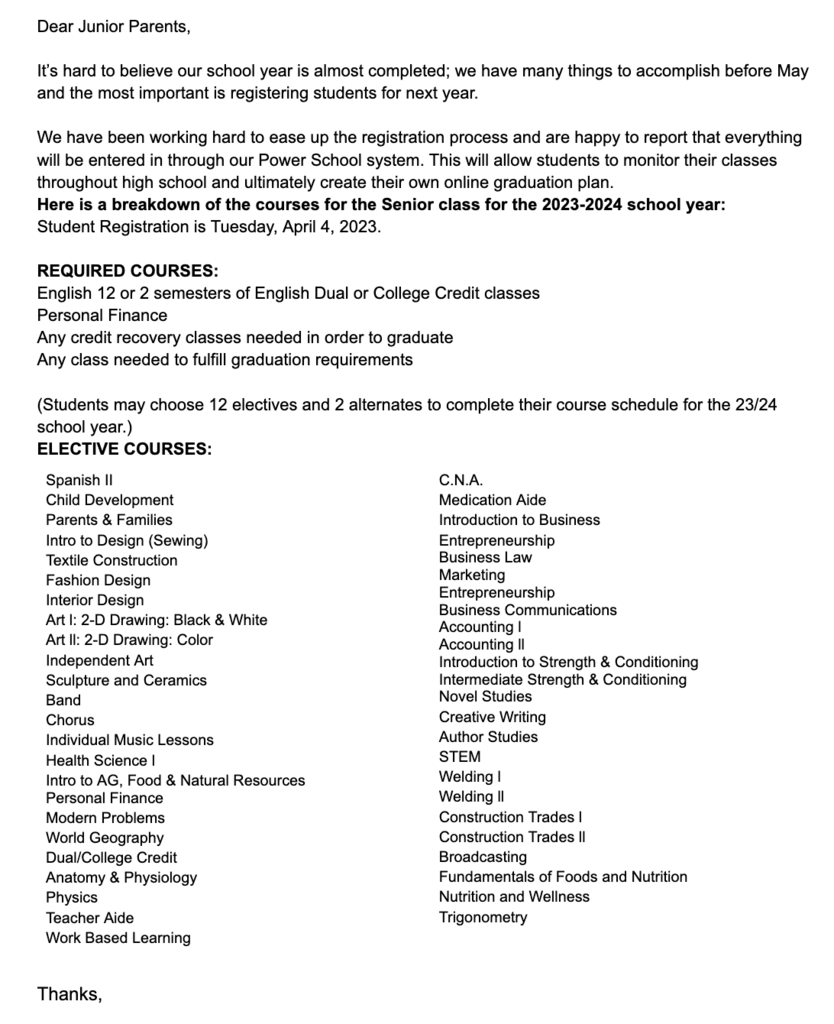 .